Super Quick Weekend Highlights
Went to Shreveport Boardwalk and shopped a good bit. Bought more makeup like I needed it.
Got an awesome package in the mail from 2 of my highschool friends that included a Purple Mexican Blanket, my first baby tshirt (awe), and a ton of great dental stuff because they are both in the dental profession.
Played my banjo a ton. Agreed to buy a new banjo. Another 1900 banjo - S.S. Stewart.
Found a leak in my utility room ceiling last night. Oh lucky me. It is a leak in our hot water pipe that runs over our utility room. Plumber coming tomorrow. Looks like a big boobie about to explode of water. We will have to do some sheetrock repair when this is over.
Made my first baby appt for June 8th. The doctor tells you to wait till you are 8 weeks before you call and then they take 2 weeks to get you in. I believe today I am 8 weeks and 2 days. Also, I finally tossed my cookies for the first time with morning sickness today. I have came close and been totally miserable in the past but never had it just come out of nowhere and BAM!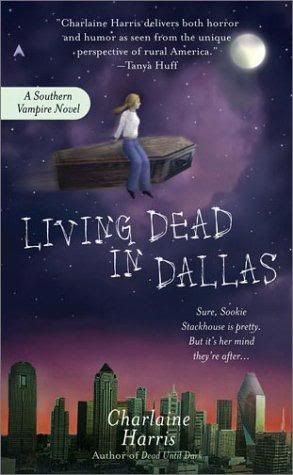 I just finished my second book in the Sookie Stackhouse series. It was Living Dead in Dallas. Author's name is Charlaine Harris. It is the novels that True Blood was based on. Awesome book if you like Southern Vampire Mysteries. I have already ordered my next one on
http://www.half.com/
, Club Dead.