I was in a hurry for dinner and didn't know what to make. I had already cooked up a big batch of Jasmine rice today in my
rice cooker
, and it was being kept warm. I had almost 2 lbs of stew meat thawed so I decided to make some Beef Tips and Rice in my pressure cooker.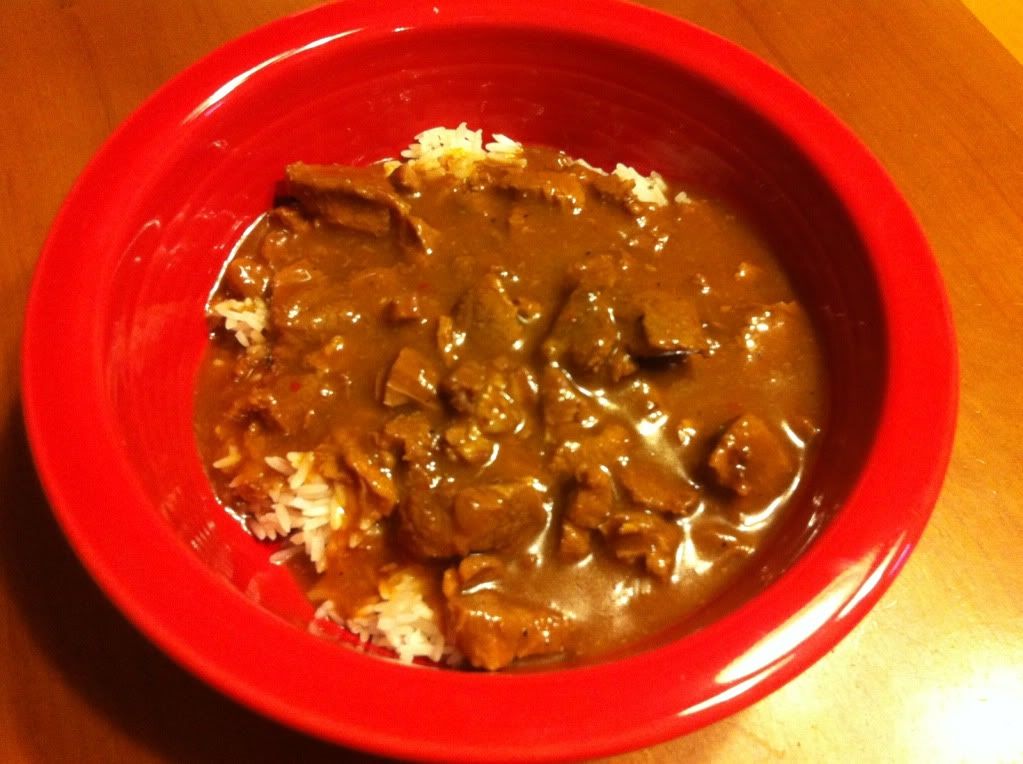 Everything looks better in Fiesta!
Although I use a large pressure cooker for canning, I have smaller nicer ones that I use for my everyday cooking. You can cook chicken in no time, and the meat will fall off of the bones. That takes 10 minutes under pressure. You can cook pinto beans in around 55 minutes. Roast is done in less than an hour. Boiled Peanuts!!! I could go on forever.
Fagor Splendid 6 quart Pressure Cooker
. This is the best sized pressure cooker for everyday cooking I have found. It has more than one safety feature and will not allow you to open with pressure. Not all are created this nice.
Beef Tips & Rice
Ingredients:
Cooked rice, 2 lbs stew meat (cubed), 1 onion (chopped), brown gravy mix, 3 cups water, salt, garlic powder, pepper, soy sauce, Worcestershire.
Anyway, here is how I cooked my Beef Tips. I heated up a few tbsp of olive oil in the pressure cooker saucepan with lid off. I seasoned my meat with garlic powder, salt, pepper. 1/2 tsp is a good amount if you are unsure how much to put of each season. Brown your meat. I dropped a chopped onion to cook over my beef cubes. After the onions started cooking down, I added 1/4 cup or a few good shakes of Soy Sauce, and 1/4 cup (few shakes) of Worcestershire, 2 cups of water, and mixed up one packet of gravy mix with a cup of water. Most people add brown gravy mix. I had some Cajun red gravy mix so I used that. I added the gravy mixture in and stirred well. Locked on the lid. I cooked on med-high until I reached pressure. Then, I lower my burner but kept hot enough to remain under pressure. I cooked for 20 minutes and then released the pressure. You may need to thicken your gravy a little bit. I have a container of brown gravy mix that shakes out. It is Tony Chachere. Sometimes I add it to stuff I want to thicken instead of flour or corn starch. Learning to cook with pressure cookers on an electric stove is an art. Learning to cook with one on a flat top stove is a tricky skill!!! I also can on my flat top stove.
The Beef Tips and gravy tasted like it had simmered for 2 hours just like most recipes call for. If you are a busy mom, get a rice cooker and a pressure cooker. No more boiling stuff for hours in the kitchen. Soups don't have to cook all day. I think of it as Cooking Smart with your time.
This got my little 13 month old baby boy's approval. The meat fell apart and was easy for him to eat. This is him after eating, bathing, and now brushing his teeth.