This is my first "Haul Blog." I would like to dedicate it to
Dreamer0703
. I splurged and fed my shoe addiction with 4 pairs.
I have already previously written about the tornado scare while at the mall on Saturday in the Texarkana, TX mall on my FaceBook. While my kids and my sister-in-law (bff) and I were in the Victoria's Secret, the lights went out. They pushed us out of there and into the service hall. We all sat in the dark on the floor and up against the wall for a bit. After it past, we were allowed to get up and exit the mall and run for our cars with cloud to cloud lightning happening. Always an adventure in my world. The first 3 pairs of shoes were purchased before tornado warning. After we left the mall, we then went to Kohls and to Target because it still had power.
Green and Paisley Platform Heels from Journeys.
They were in the Forty Dollar range. Maybe $44. 2 inch cork heel with buckle and ankle strap. These shoes have been calling out to me for at least 2 weeks. I bought these so I can take a picture in them before I have to put them up for 9 months. I will also have to learn to walk in them properly. haha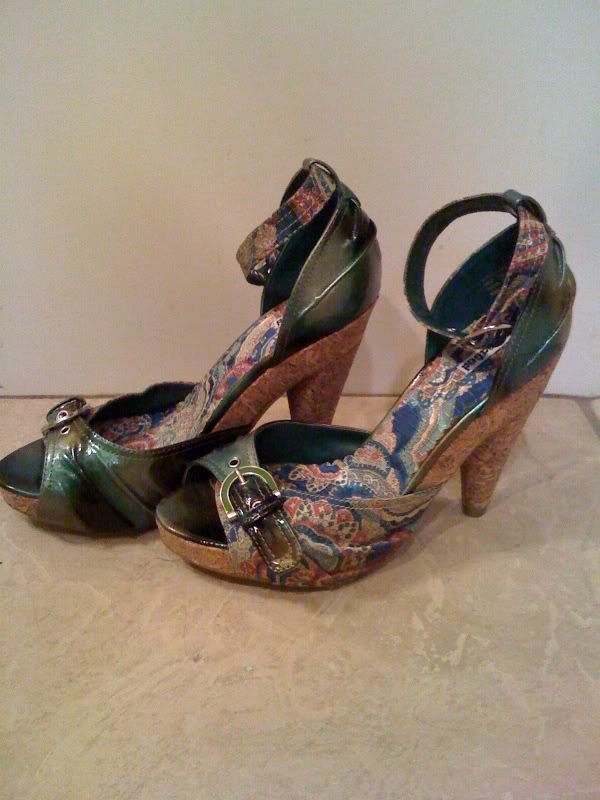 Conservative Black Flats with little wedge from Journeys
. These were on sale and had some cushion. The sales girl showed them to me, and they were an impulse buy. These were only $20. They have a cute little fastener on the toe.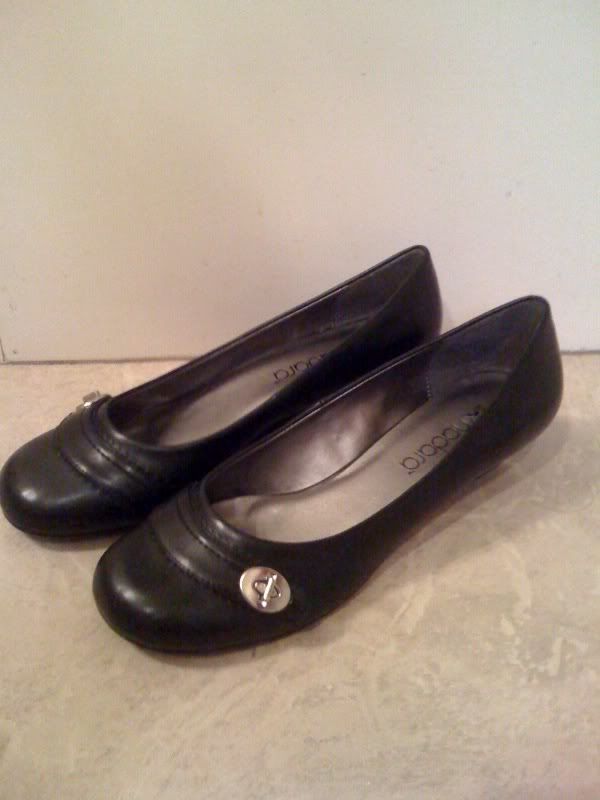 Turquoise, Black, Purple Lightning Flats with black diamond studs from
Hot Topic
. I think they were $22. These cute little flats have a little strap across the top of the foot that kind of reminds me of a babydoll style. There are litle skulls on the liner of the shoe. They are very thin and can bend really easily. It is almost like walking barefoot. They are a shiny vinyl style. I love Hot Topic and probably shop there every week for something cool.
Black flats with brown stitching from Target.
I thought I was done for the day, but these shoes caught my eye. They were $19.99, I believe. I have already worn these and they were uber cute. I really like the little strap across the top of the foot. A little blurry, but you get the idea.