On Friday night, Becka and Lele were going to do something. As soon as I heard food may be involved, I was like "I want to go." ha ha So, us sisters landed at Shoguns, a Japanese Steakhouse and Sushi Bar, for a ladies night. I decided to eat some California Rolls. I had only had the ones at Chinese Buffets which were never too fresh. These were good. I can't eat real sushi because the thought of raw fish disgusts me and also I am pregnant. It's no good for the baby. I can't even take the taste of salman. *cringes at fishy taste*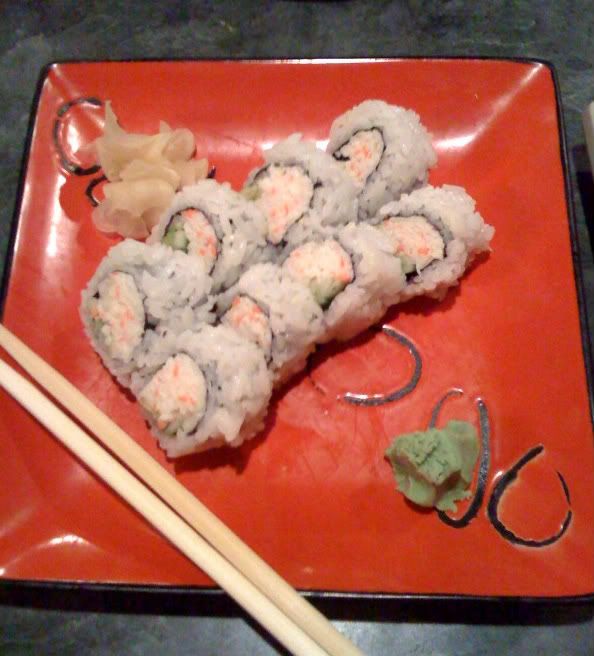 Yummy, this was sooo good.
We noticed that one couple at the bar was having a really good time with lots of alcohol. I saw one sipping some saki and the other two throwing back some beers. The lady sounded like she was trying to teach the Sushi Chef, Danny, how to speak his own language. It was crazy and a little hard to ignore. She did get lost on her way to the bathroom. haha Before they left, they had to give Danny, the chef, some Dap! She started staring at Becka and looked like she wanted to say something. I gave the weird glares back and then came a fake smile across her face and she started to yell "Heyyyyy!" About that time, her husband tapped her it was time to go.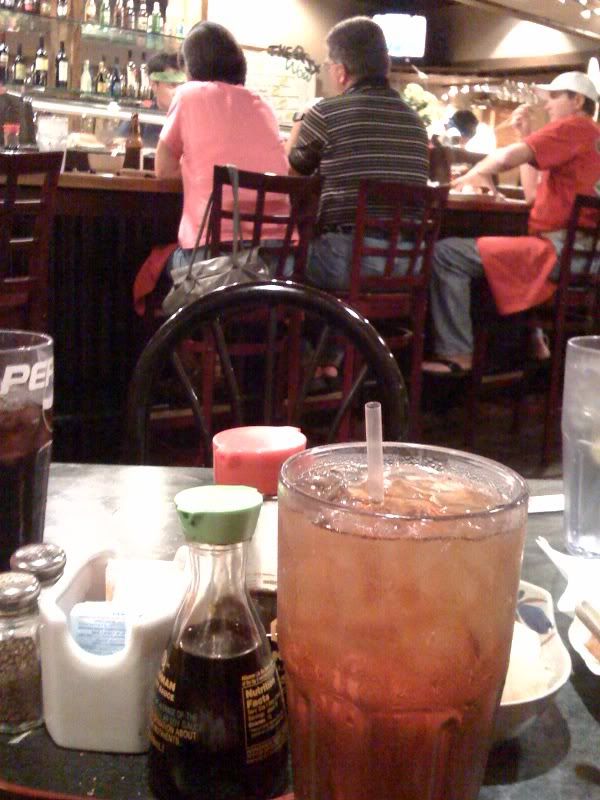 The drunk people were cutting up with the Sushi Chef, Danny, and he sent a complimentary plate their way of some Fried Crab Ball things. They probably have a fancier name like Tempura Crab Roll, but it really was a crab ball. A few minutes later, a server brought a plate to our table as well and said compliments of the sushi chef. Woohoo! Free food. I asked him if it was scary. haha You know, being pregnant and all. Becka is allergic to shellfish so Lele and me tried them. I let Lele go first. haha Here is our plate of them below after Lele took one of the plate. They were round balls that had crab, seaweed, rice, and something maybe like cream cheese inside and a battered and fried with eel sauce. Wooh! I ate it, and it wasn't half bad. Not as great as a California Roll, but Free! They could grow on you.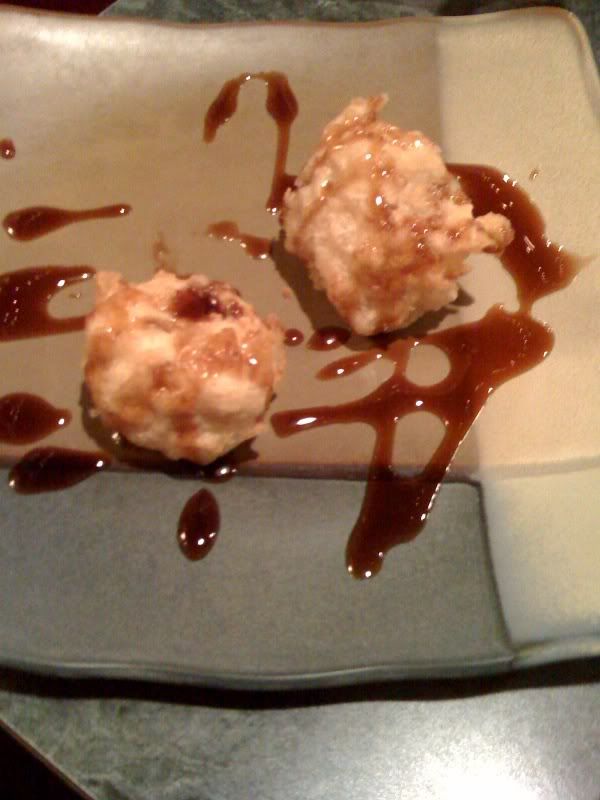 So, after our evening and almost time for check. I thought I would see what they had for dessert. Been to Shoguns a million times and never tried dessert. I asked the server for some ice cream. He ended up giving us a free bowl of Plum Ice Cream. Woohoo! More free food. They were about to close so I guess they were in a giving mood. I asked for 3 spoons. It was very good with big chunks of fruit in it.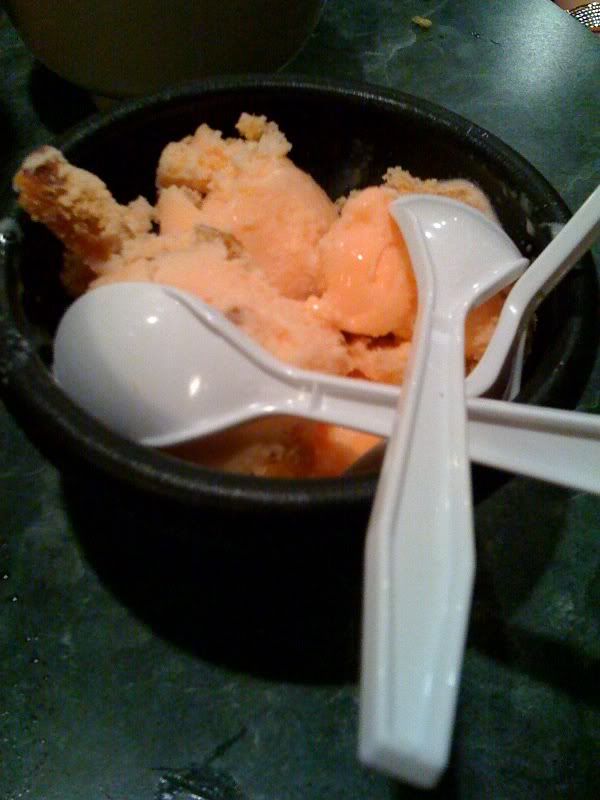 After the ticket, I remembered we needed a to-go salad for my daughter because she loves the ginger dressing. Another server just gave it to us. I was thinking we hit the jackpot. haha I usually pay a fortune when I go out to eat so I was really enjoying this night.
There was one saki bomber left sitting at the bar who took a liking to Becka. He was funny and kept eavesdropping on our conversation. He had the sushi chef make up something for Becka to take home. haha A flower made from a Beet, Parsley stalk, chopstick, and foil. Aweee how sweet. We made sure this guy didn't follow her home. haha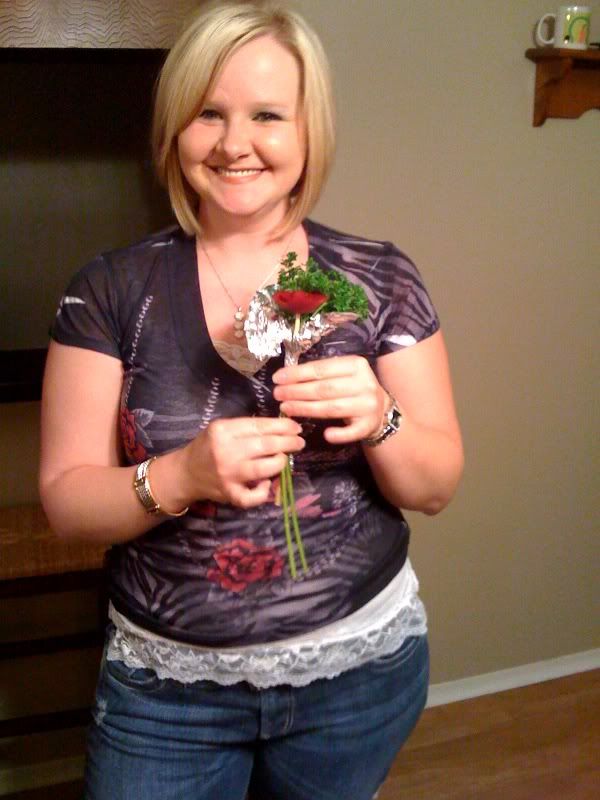 All said and done, I paid a little over $8 for my sushi dinner complete with salad and soup, complimentary crab things and ice cream with Tea. I guarantee you I will never get out that cheap again.