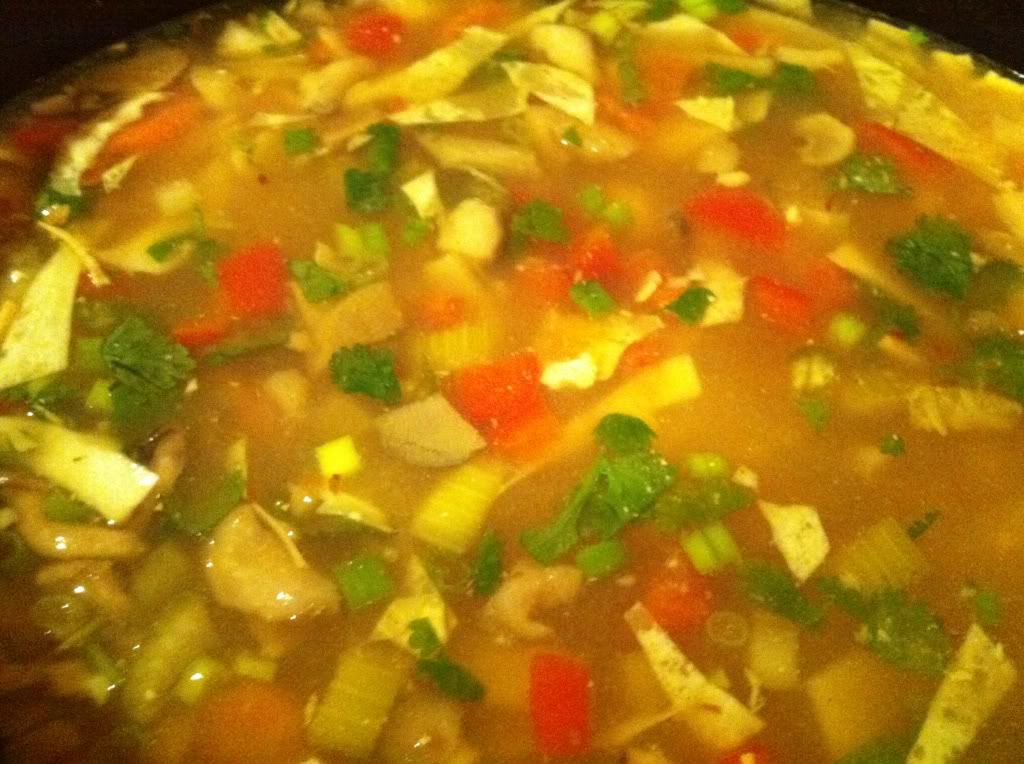 Perfect day today for a good crock-pot soup. I wanted to try and make a Hot and Sour soup because I had never made one. I also love curry and Thai. Mix of 2 recipes. Fabulous.
I am so excited to say that I have now cooked Tofu. Shame on me for not doing it sooner. And after watching
Forks over Knives
, thank you Michelle, I feel proud.
Here is a basic run-down of how I did it. It happened throughout the day, but I will spare you all the scatter-brain details.
Curry Hot and Sour Soup
Ingredients:
2 chicken breasts
carton of chicken broth
3 TB Red Wine Vinegar
2 TB Soy Sauce
2 tsp curry powder
2 cups water
2 TB Brown Sugar
1/2 tsp crushed red pepper flakes
1 tsp chopped Jalapeno
1 carrot, peeled and sliced
1 celery stalk
1/2 Red Bell Pepper
1/4 cup or handful of shredded cabbage
1/2 box firm tofu, bite sized cubes
1 tsp chopped garlic
1/3 cup wild mushrooms (frozen or dried for my area)
1/2 can Bamboo Shoots, drained
1/2 can Water Chestnuts, drained
-----------------------------
3-4 green onions, green tops
1 TB chopped cilantro
Basics
I started off with frozen chicken breasts and dumped a carton of chicken broth over it. I let it cook for a few hours (probably 4) on high. After awhile, you can see it boiling and know it needs to be pulled out to cube or chop up. If you aren't worried about cloudy broth, which I am not, I throw the meat back in to cook with everything else.
Then, I started adding everything in as I chop it. No need for too much prep. I added the 2 cups of water, the Red Wine Vinegar (Rice Wine Vinegar may be more traditional but that is what the Cooper Cupboards had), Soy Sauce, Curry Powder, Brown Sugar, red pepper, jalapeno, carrot (I wouldn't have peeled them if they were organic), celery, red bell pepper, cabbage, garlic, wild mushrooms, bamboo shoots, and water chestnuts. Let that cook up for about 2-3 hours. Depending on how hot your crock pot gets, you will want to monitor that.
Throw the last few ingredients in at the last and let it get good and hot. The flavor of the cilantro really adds a flavor punch mixed with the curry mix.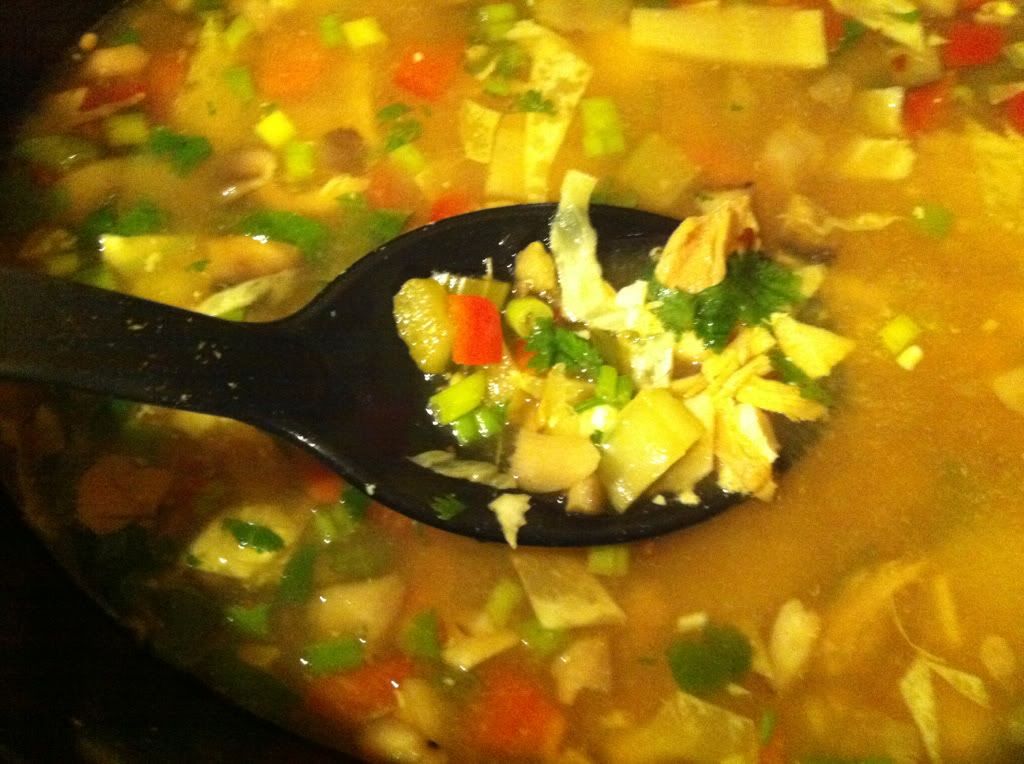 I couldn't get enough of it. The flavor was so good. It was definitely the best comfort food I have had in awhile. This was too spicy for my 17 year old daughter, and too weird for my picky 13 year old son, but my little buddy D ate this right up and kept saying "Bite Bite" after each bite. He really dug the broth.